Category Archives:
Blog
Watch the Blog for updates, events and announcements about our activities.  To contact the Blog editor email [email protected]
First Year Urban Program (FUP) from Harvard University. This group volunteered with us in the Roxbury community to help with the "Coalition for Jobs Not Jails". They informed the community that 10,000 new prison units are expected to be built by 2023, costing $2 Billion. The volunteers asked the community to sign a petition to help with the reforms. FUB demonstrated enthusiastic attitudes while engaging with the community and helping BWA raise awareness to halt the construction of new prison units until these reforms can take effect.
Since 2005, the BWA has grown into a powerful grassroots force, challenging the crisis of urban joblessness and fighting for social and economic justice. As a small community based organization, we thank you, our broad community of supporters who have helped us come this far! In 2012, BWA's membership and community base continued to expand, while the organization took on new and exciting projects to advance our mission.
BWA's 2012 Highlights
1. CORI Reform Becomes Law: After working to pass nationally recognized CORI reforms, BWA celebrated the implementation of the new laws on May 4, 2012. BWA hosted the "CORI Celebration and Sealing Day," where over 350 residents came to the Dudley Library to take advantage of the new law and purge their past criminal records. Without CORI reform, hundreds of thousands of residents would still be suffering from old CORIs. (www.vimeo.com/41963738)
2. Boston Staffing Alliance (BSA): BWA's innovative staffing agency helped place over 55 people in temporary and temp-to-permanent positions in 2012. BSA is a non-profit temp agency that values its workers and provides critical pathways to permanent employment for our members. BSA expanded its placement areas, ranging from light construction to food service sectors. (www.BostonStaffingAlliance.org)
3. Economic Justice Organizing: As a Steering Committee member of MassUniting and Right to the City Alliance, BWA helped advance economic justice organizing in the streets. Over 1,500 people took over downtown Boston for the April 17 Tax Day Action, calling attention to the multi national corporations that are dogding taxes, corrupting our politics and bankrupting our communities. (http://youtu.be/ps11T8dovk0)
4. Jobs and CORI Support: BWA's Worker Center, open Mon-Thurs 10-2pm helped over 600 people with employment and CORI services. Hundreds got help with their resumes and job searches and hundreds more received help in requesting and sealing their CORI records. (http://youtu.be/2_YwPrF7cr0)
5. Voter Engagement: 20+ BWA members led a non-partisan voter outreach campaign, knocking on over 6,500 doors in Grove Hall and increasing voter turnout to its highest levels in recent history. BWA also helped start the Massachusetts Voter Table, which collectively made over 104,000 voter contacts in MA. And with Right to the City VOTE!, BWA helped draft and pass the Budget for All Referendum in Boston, calling for taxation of the 1%, cutting military spending, and investing in jobs and vital services for our communities! (http://budget4allmass.org)
6. Green Living: BWA's Urban Garden project trained new families in gardening skills and produced free organic vegetables for our members.
7. Worker Cooperatives: Over 15 BWA members attended the national US Worker Cooperative Conference. BWA's first worker-owned cooperative Roxbury Green Power partnered with MassCOSH to revamp the co-op into a Black and Latino run recycling company called CERO (Cooperative Energy, Recycling and Organics) for relaunch in 2013. BWA and MassCOSH members began a 14 week Co-op Academy training and hired a new startup manager.
8. Construction Jobs Campaign: BWA helped launch a new citywide coalition, dedicated to winning policy changes and community benefit agreements for women, people of color, and Boston residents in the building trades. As Boston expects billions of dollars in new construction, over 20 organizations have joined the coalition and are poised to change the face of the construction industry in Boston for years to come.
9. Economic Democracy: Working with Right to the City, BWA is advancing a new narrative to help 'Take Back Boston' and propel innovative policies that bring economic power into the hands of the 99%. BWA members have worked to popularize Participatory Budgeting, a process where residents can vote on the use of our tax dollars to ensure that public funds are spent to effectively benefit our neighborhoods. (www.participatorybudgeting.org)
10. Criminal Justice Organizing: BWA members continued to organize against the criminal justice system and fight for Jobs Not Jails in our communities. BWA coordinated a 400+ person rally and lobby day against the 3-Strikes Law at the State House. BWA members also launched a campaign to add enforcement teeth to the City of Boston's CORI Ordinance, which requires all city vendors to adopt CORI friendly hiring policies. And BWA members met with EPOCA members to plan a new prison reform campaign for 2013-14.  (http://youtu.be/sPBM0aFfCDg)
11. Community Building: BWA held its annual membership events, including a very successful Juneteenth Cook-Out at Franklin Park, and our Annual Holiday Party and Gift Drive, where we gave out over 80 presents to the children of our members!
12. Leadership Transition: After almost 8 years, BWA's founding executive director Aaron Tanaka transitioned out of his staff position. The BWA board hired Chuck Wynder as the new director of the organization. BWA recognized Aaron's investment, vision and skill in helping to build BWA as a powerful member-led organization. BWA welcomed Chuck as an exciting and experienced leader to help move the organization into its next phase of growth and impact. BWA celebrated this change, and our members, board and staff at our annual Celebration & Fundraiser! (www.bostonworkersalliance.org/?p=1630)
As a grassroots organization, we thank the hundreds of BWA members and allies who have volunteered their time, money and energy to build our movement. We ask for your ongoing support as we approach a pivotal year of economic justice organizing. With our many partners across the city and state, we look forward to growing a more powerful movement for social and economic justice in 2013!
- Consider making a year end donation to support our critical work: http://tinyurl.com/bwa-support
- Join Boston Workers Alliance on Facebook: http://tinyurl.com/bwa-FB
—
BWA Staff: Chuck Wynder, Hakim Cunningham, Mirembe Asamoah, Danielle Williams, Prenell Sanders, Sunni Ali, Samantha Akwei
BWA Board: Suezanne Bruce, Al Copeland, Angela Yarde, Timothy Hall, Terri Hinton, Winston Jankee, Tracy Parks, Joel Pierre
Friday, November 9, 2012
6:00pm until 10:00pm (program starts at 7pm)
SEIU 1199 Event Hall, 150 Mt. Vernon St., Dorchester MA 02125
BWA is pleased to announce our 2012 Celebration and Fundraiser
Details and purchase tickets online: www.tinyurl.com/bwa-event
Facebook Invite: www.facebook.com/events/278360262275312/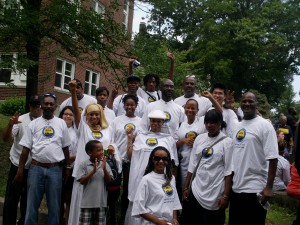 Come celebrate the courageous members, staff, board and allies of the Boston Workers Alliance who give their time and energy to fight for good jobs, a fair criminal justice system, and a green and healthy future for our communities. This event will recognize outgoing executive director for his 7.5 years of service and welcome new leadership to our community.
*BWA Celebration Flyer 11-9-12 (download here)*
The evening will include:
- Heavy hors d'oeuvres from a local caterer
- Awards and recognitions of our leaders and allies
- Live music, dj, dancing
- Silent auction, raffle, door prizes
- Community building, networking and celebration!
Suggested donation is $25. No / low income is $15.
Organizational Partners are encouraged to Sponsor our event with an Advertisement and purchase discounted group tickets: www.tinyurl.com/BWA-event-sponsor
Please join us!
BWA Accomplishments
2005 - Founded by Chuck Turner's D7 Roundtable
2005 - Helped Pass City of Boston CORI Ordinance
2006 - Trained 1st Class of CORI Advocates
2008 - Helped Pass Green Jobs Act for Green Jobs Training
2008 - Started Large Scale Voter Engagement Drive
2009 - Opened Worker Center Office in Grove Hall
2009 - Started Roxbury Green Power Cooperative
2009 - Started Community Garden Project
2010 - Helped Pass Historic Statewide CORI Reforms
2010 - Opened Boston Staffing Alliance, temp agency
2011 - Helped Win Funding for Home Weatherization Jobs & Services in Boston
2011 - Helped Lead 3,000+ in Downtown March for Economic Justice
2012 - Helped 300+ People Seal CORIs Under New Law
2012 - Helped Launch New Coalition for Fair Construction Jobs
Job Openings at the Boston Workers Alliance:
BWA is Hiring!  Please see below for 3 positions with the BWA, and circulate our job announcements widely.
I.   Executive Director
II.  Boston Recycling Co-op Start-up Manager
III. Worker Center Coordinator (part time)
Executive Director Hiring Search
3-STRIKES UPDATE
On Wednesday and Thursday of this week, the Massachusetts House and Senate passed the controversial 3-Strikes Bil that has been held in committee since 2011.  While the version that passed was significantly improved due to the advocacy of many organizations, the 3-Strikes provisions are still in-tact and represent an approach that is more severe than California's failed 3-strikes law.
TELL GOVERNOR PATRICK TO VETO
A growing number of organizations are calling on Governor Patrick to VETO this regressive law.  Please call / email Governor Patrick today, Monday or Tuesday!
SCRIPT:  "I'm contacting the Governor to urge him to VETO the 3-Strikes Bill.  3-Strikes will add to our prison crisis.  We should invest in jobs, education, housing and health, not more prisons and jails."
Call Governor Patrick hotline: 617.725.4005
Email Governor Patrick:
http://www.mass.gov/governor/constituentservices/contact/
I.  State Street Bank Protest - Report Back
On Wed, May 16, BWA joined our MassUniting partners to take over the
State Street Bank's Annual Shareholders Meeting.  State Street is
responsible for dodging corporate taxes, investing in private prisons,
defrauding pensions and outsourcing American jobs.  We bought over 50
shares and had our members attend the meeting as legitimate
stakeholders.  Once the meeting started, teams of protestors
interrupted the proceedings and demanded changes to State Street
Bank's practices.  As protestors were escorted out of the meeting,
they joined a crowd of supporters outside who held a "public trial"
for State Street Corp, finding them guilty of major "corporate
crimes."
(more…)
On Friday May 4, BWA hosted a CORI Reform celebration at the Dudley Branch Library.  Over 300 people attended the event, receiving assistance from attorneys to order, review and seal their CORIs. Because of the CORI Reform victory, felonies can now be sealed in 10 years and misdemeanors in 5, and any probation or parole now counts towards those waiting periods.  Continued Without Findings (CWOFs) can now be sealed without waiting a time period, and most dismissals will not be sent out to employers.
The celebration included food and speakers, including Rep. Liz Malia, Pauline Quirion (GBLS), BWA members Terri Hinton and Sunni Ali and EPOCA member Luis Bajana.
We thank our co-sponsors (partial list): American Friends Service Committee (AFSC) Healing Justice Program,  Boston Public Health Commission, Boston Workers Alliance (BWA), Coalition for Effective Public Safety (CEPS), Criminal Justice Policy Coalition, Ex-Prisoners and Prisoners Organizing for Community Development (EPOCA), Greater Boston Legal Services (GBLS), Haley House, Massachusetts Organization for Addiction Recovery (MOAR),  National Association of Social Workers, MA Chapter, The Real Cost of Prisons Project, Rosie's Place, SPAN, Inc, Union of Minority Neighborhoods
Consider donating to BWA to support our work: http://tinyurl.com/donateBWA
CORI SEALING DAY
We fought For CORI Reform, Now It's Time To Seal Your CORI!

Celebration and Info Session - the CORI law is scheduled to go into 
effect on May 4
FRIDAY, MAY 4, 2012
DUDLEY BRANCH LIBRARY AUDITORIUM
11:00am-3:30pm: Assistance Sealing CORIs from Attorneys and Public Notaries 
1:30pm-2:30pm: Lunch and Information session with speeches from members of the community, CORI reform advocates State Representative Elizabeth Malia, Chief Probation Officer of the Roxbury District Court, Anthony Gully and Greater Boston Legal Services attorney Pauline Quirion
To determine your eligibility to seal your CORI bring: 
· state ID (example: driver's license)
· copy of your CORI (or we can sign you up to get a copy at the event
if you do not have a copy)
Because of CORI reform, felonies that used to take 15 years to seal
now take 10 years and misdemeanors that used to take 10 years to seal
now take 5 years.
Contact: Boston Workers  Alliance     |
[email protected]   |   (617) 606-3580   |
bostonworkersalliance.org 
Co-sponsored by*:  American Friends Service Committee (AFSC) Healing Justice Program,  Boston Public Health Commission, Boston Workers Alliance (BWA), Coalition for Effective Public Safety (CEPS), Criminal Justice Policy Coalition, Ex-Prisoners and Prisoners Organizing for Community Development (EPOCA), Greater Boston Legal Services (GBLS), Massachusetts Organization for Addiction Recovery (MOAR),  National Association of Social Workers, MA Chapter, The Real Cost of Prisons Project, Rosie's Place, SPAN, Inc. *partial list
Email: amy@bostonworkersalliance.org to co-sponsor or for additional information
On April 17, 2012 members of Boston Workers Alliance joined over 1,000 protestors to tell corporations and the 1% to pay their fair share of taxes. The rally, called Boston Tax Day Action, brought together concerned citizens from Dorchester to the North Shore.  BWA members marched from Dewey Square to the Financial District, telling local corporations such as General Electric, State Street, Bank of America and Verizon that they are  tired of them getting tax refunds and not paying taxes; taxes that would go toward things in the community like education, jobs, fair housing and community programs.
Despite billion-dollar profits, these corporations have managed to avoid taxation altogether, with some even raking in hundreds of millions in tax refunds.  General Electric alone managed to draw in a federal tax refund of $3.7 billion over the last three years, despite posting profits of more than $19.6 billion!  This rampant corporate tax dodging is bankrupting our communities, forcing mass layoffs, slashing vital services and closing schools and community centers.

BWA member Damon Kiser spoke to the crowd, saying "It's hard to hold a job these days.  I work in IT (information technology).  They (my former job) laid me off. Shipped my job overseas.  Why?  So they could make more money.  So they could make more profits. And pay not taxes!"  Hard working people in our community are being put out of a job by these big corporate big wigs who receive huge bonuses and perks.
Enough is enough!  It's time to put people over profits and it's time for big businesses and the wealthiest amongst us to pay their fair share, just like the rest of us do.