Category Archives:
Take Action
This page is currently under construction.  Thanks for your patience!
3-STRIKES UPDATE
On Wednesday and Thursday of this week, the Massachusetts House and Senate passed the controversial 3-Strikes Bil that has been held in committee since 2011.  While the version that passed was significantly improved due to the advocacy of many organizations, the 3-Strikes provisions are still in-tact and represent an approach that is more severe than California's failed 3-strikes law.
TELL GOVERNOR PATRICK TO VETO
A growing number of organizations are calling on Governor Patrick to VETO this regressive law.  Please call / email Governor Patrick today, Monday or Tuesday!
SCRIPT:  "I'm contacting the Governor to urge him to VETO the 3-Strikes Bill.  3-Strikes will add to our prison crisis.  We should invest in jobs, education, housing and health, not more prisons and jails."
Call Governor Patrick hotline: 617.725.4005
Email Governor Patrick:
http://www.mass.gov/governor/constituentservices/contact/
DEMAND STRONG CORI REGULATIONS!
In August of 2010, CORI Reform was passed by a statewide coalition of 110+ organizations and the hard work of thousands of Mass residents. The reforms are going effective on May 4, 2012, and the Governor's Office has released the New CORI Regulations that will dictate how the law gets implemented.
Over 100 people attended a public hearing on Friday 3/30 on the new CORI regulations to support our demands to the Governor.
CALL THE GOVERNOR TODAY
Call Governor Patrick today: 617 725 4005
Sample Script: "Hi, my name is _______, from _______. I'm calling to leave a message about the new CORI regulations. Please tell the Governor to keep our right to challenge the "relevance" of a CORI with a potential employer, and to stop private background check companies from accessing CORI if they give out data older than 10 years. These regulations are critical for CORI reform to be effective and I urge the Governor to do the right thing."
1) Do Not Remove the Right of Job Applicants to Discuss the Relevance of their CORI. The old CORI Regulations included a chance for a job applicant to discuss the "Relevancy and Accuracy" of their CORI with an employer who had concerns. The new regulations left in the "accuracy" requirement but took out "relevancy." Tell the Governor to reinstate the opportunity to discuss the Relevancy of a CORI to the job at hand.
2) Stop Private Background Check Companies from Giving Out Old CORI. The new regulations are allowing private background companies to access the official CORI system, and are not preventing them from giving out old records or non-convictions. The regulations should require any company that uses the official CORI system to limit its information to 10 years for a felony, 5 years for a misdemeanor, and no dismissed cases (the same as the official CORI system). If a private background check company wants to continue to give out old and dismissed CORI, they should not enjoy access to the official state CORI system.
Access the regulations here: http://www.mass.gov/eopss/docs/chsb/dcjis-proposed-regulations.pdf
Download a position paper from the Commonwealth CORI Coalition explaining these two demands: CORI Regulations Advocacy 2012
Help spread the word - stand up for CORI reform on Friday March 30th.
BWA is launching a new campaign to fight for access to construction jobs in our community.  To begin our campaign, we are creating a database of under- and unemployed building trades workers.  If you or someone you know is having trouble getting work in the trades, please complete our Building Trades Worker Database:
Download Stop 3-Strikes Fact Sheet 2012 *click to download*
Send an easy email to your legislators and the Conference Committee:  http://tinyurl.com/3strikesletter
Rally and Lobby Day Report Back
On March 15, over 400 people came to the State House to stop the controversial 3-Strikes bill and demand Smart on Crime Sentencing Reform.  A broad range of 70 organizations endorsed this action and demanded new policies that would reduce the prison population and re-direct funds towards jobs creation, housing, rehabilitation and education for ex-offenders.
The energized crowd chanted "Stop 3-Strikes, Jobs Not Jail!" and heard speakers from NAACP, EPOCA, Boston Workers Alliance, and Blackstonian.  Faith speakers included Rev. Dickerson of Greater Love Tabernacle and Rev. Dan King of UU 1st Congregational Parish in Kingston, MA. Legislators and City Councilors including Sen. Brownsberger, Sen. Chang-Diaz, Rep. Henriquez, Rep. Rushing, City Councilors Arroyo and Pressley all spoke in support of our advocacy.
Hundreds of participants then entered the State House to lobby their Reps and Senators and to bring the community message to our elected officials.  Residents spoke to over of 60 legislators and dropped post-cards and fact sheets at all 200 offices.
Key Advocacy:
YES: [+] Repeal Mandatory Minimum Sentences for Drug Offenses, and [+]
Shrink School Zones to 100ft
NO:   [-] Stop 3-Strikes, and [-] No Mandatory Parole for All Prisoners
We thank the 70 organizations that supported this pivotal action and
call on all concerned residents to intensify our advocacy against this
dangerous bill.  Join the movement to Stop 3-Strikes and win Smart on
Crime Sentencing for our state.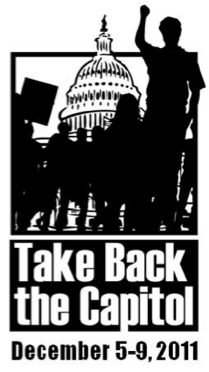 TAKE BACK THE CAPITOL: OCCUPY DC!
December 5-9th
BWA joined MassUniting to bring 250 people from Boston to DC for a week of protest!
All across the country, people have taken to the streets to demand change. From New York to LA, from Wall Street to Dewey Square, we have made our voices heard loud and clear — the 99% are here to stay. But even after thousands of marches and people willing to take arrest for the cause, our leaders aren't listening.
SAVE YOUTH JOBS
Tuesday, June 15, 2010 at 3:30 pm
City Hall Plaza near Government Center T Stop
TO ENDORSE OUR ASKS AND ACTION:
http://bit.ly/endorse-youth-jobs-2010-06-01
TO DOWNLOAD A PDF FLYER:
http://bit.ly/save-youth-jobs-flyer-2010-06-15
Final decisions on youth jobs happen this month.
Stop the youth jobs crisis and the worst cuts in a decade!
LIVES & FUTURES ARE AT STAKE
5500 YOUTH will be denied jobs this summer.
WILL YOU SPEAK UP AND FIGHT FOR YOUTH?
We've asked the Feds and State. Now we're asking the City:
PLEASE, SAVE YOUTH JOBS. ADD $2 MILLION.
Save Our Libraries! Save Our Community Centers!
The national fight continues:
Keep calling Scott Brown to tell him to vote for $1 billion for youth jobs.
(202) 224-4543 or (617) 565-3170.
We have passed CORI reform in the Senate. Now its time to pass a bill in the House!

http://www.unionvoice.org/campaign/fixcori_now_today
Follow the link above to send an email to your legislator today.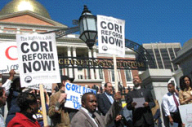 CORI HEARING REPORT BACK
On Tuesday, March 18, the Judiciary Committee Chaired by Rep. Eugene O'Flaherty and Sen. Robert Creedon held a Public Hearing on Deval Patrick's CORI Reform Bill #4476. Over 400 people overflowed the hearing room, representing dozens of organizations and thousands of concerned citizens.
The hearing began with testimony from Governor Patrick, who highlighted the real needs for reforms. He noted that there are 20,000 people incarcerated in Massachusetts, and that 97% of these people will return to their communities at some point. Patrick argued that the best reentry program was a job, and maintained that the Commonwealth would save millions if we are able to reduce recidivism ($43,000 per prisoner each year). Patrick also touted the importance of reducing the waiting period to seal CORIs. He emphasized that a person's likelihood of re-offending goes dramatically down if they have not committed a crime after 6-7 years. His bill, #4476 would reduce the waiting period to seal a felony from 15 years to 10, and reduce misdemeanors from 10 years to 5.
Boston City Council CORI Resolution Hearing
November 19th at 3PM
City Hall Council Chambers
5th Floor of Boston City Hall
Show Up & Be Heard and Show Your Support
The Boston City Council is having a hearing on a resolution that calls on Governor Patrick to remove the restrictions imposed by Governor Weld and Cellucci on the Executive Office of Health and Human Services and organizations contracting with them, as it relates to hiring of individuals with Criminal Records.