Posted Monday, January 15, 2007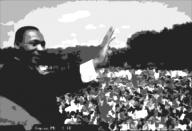 MLK Flyer 07 (click here to download BWA MLK Day Flyer pdf)
Full-Employment: A Poor People's Movement
BWA is an organization of under- and unemployed adults, united to end CORI discrimination and the crisis of joblessness.
As we commemorate the Rev. Martin Luther King Jr.'s life and legacy, we are especially inspired by his "second phase" in a struggle for justice. At his untimely death, King aspired to build a powerful interracial "Poor People's Campaign" to win jobs and economic rights for all.
The BWA is committed to walking the path that Dr. King already illuminated. We share his unfinished vision for a society that guarantees full and fair employment, and prioritizes basic human needs over war, prisons or corporate profit. The Boston Workers' Alliance aims to:
1) Reform CORI now!
2) Create new jobs and worker-owned cooperative businesses
3) Demand a full-employment economy
"We call our demonstration a campaign for jobs and income because we feel that the economic question is the most crucial that black people, and poor people generally, are confronting" (Dr. King, '68).
-
To learn more about "Jobs for All: Another Dream of Dr. King"
http://www.njfac.org/King-jobs.htm