Hub nonprofit dedicated to its job-seeking clients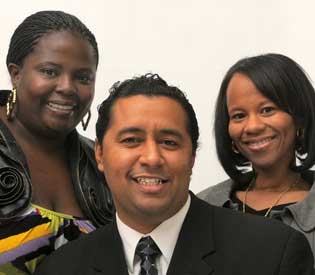 By Paul Restuccia | Monday, October 25, 2010 | http://www.bostonherald.com | Business & Markets
Photo
Photo by Patrick Whittemore
The Boston Staffing Alliance is a different kind of employment agency - a place that takes the time to really know its workers and make sure they're ready before placing them on job assignments.
The Dorchester nonprofit agency, which opened in July, isn't the kind of place where you just drop off your resume and wait for a call back.
Director Varda Halidy envisioned the agency as one that not only makes Boston companies more diverse but brings people to the work force with a variety of backgrounds, experience and skill sets who are in some cases rebuilding their lives.
The agency's tagline "Community Staffing for the Socially Responsible" reflects its commitment to helping the underemployed. And unlike other staffing agencies, it does not charge a conversion fee if a company decides to hire one of its temporary workers.
"We're not doing this for the money," says Halidy. "I tell companies that, if you use our services, you'll not only get a competitive rate but you'll be helping the community."
At first glance, running a neighborhood staffing agency from a storefront on Blue Hill Avenue seems an unlikely role for Halidy. She worked in financial services for 15 years and for the past eight years in human resources. She's been at big companies such as John Hancock and advertising firm Hill Holliday. and has traveled the country recruiting minority executives and also running corporate diversity initiatives.
"I come from a stuffy corporate background, but the chance to help people in the community find work is greater than any bonus check I ever got," Halidy says.
Her idea, developed with the help of the Boston Workers Alliance, was to open a staffing agency that would draw from all sectors of the minority community, from high school students to college graduates, from seasoned executives to even those coming out of prison.
"For our workers, it's not just about getting them jobs but keeping them stable and hopeful," Halidy says. "We get to know our workers on a deeper, personal level. We do a lot of job coaching and try to be a support system."
While many workers come from surrounding neighborhoods, the Staffing Alliance draws workers from as far away as Framingham and Gloucester.
A nonprofit funded by a private donation, Boston Staffing Alliance is one of just two agencies in the city that focus on the minority population, and the other concentrates solely on executives. The agency caters to a large variety of temporary work, temporary-to-permanent and executive search. It gets job assignments for everything from cleanup to construction, food and hotel services and nursing assistants. Its clients range from companies such as fair trade coffee seller Equal Exchange to the city of Boston, where they place temporary workers in the city's purchasing department and in the public schools.
"We have some wonderful clients, but given the bad economy, a lot of companies haven't been hiring or bringing on temporary workers," Halidy says. "But we're making more connections and getting more inquiries. We're patient and we keep reaching out."
While Halidy works recruiting companies, placement coordinator Mirembe Asamoah spends most of her time getting workers ready. She helps polish resumes and cover letters and does mock interviews. And she goes through a rigorous screening process for each candidate to make sure the clients are getting the right people for the jobs. She has worked with nonprofits for 15 years on everything from improving test scores in the public schools to tackling hazardous waste.
We mold our workers to be job-ready, and then when we do find work for them we can share in their happiness," Asamoah says. "It's very rewarding when you see them coming in to get their first paycheck."
The alliance is also developing future human resources talent. They brought on intern Troy Fergus, now pursing a master's degree in human resources management at Emmanuel College.
"It's giving me some great work experience," says Fergus, who has been developing the alliance's job readiness program, which includes training on workplace attire and etiquette, resume and cover letter writing and role-playing and interviewing skills.
Once the intake and training is done, the agency makes sure it keeps in constant touch with those seeking employment - even if it has yet to find jobs for them.
"I call up companies and tell them I have a chef who's out of work or a social worker who's been laid off, and do you think you can find some work for them?" Halidy says. "I like to call what we do a dating service. We get to know our clients and our workers so well that we know who to match up with whom."
Those who work for the Boston Staffing Alliance seem to appreciate the personal touch.
"They really did a lot for me, more than I expected," says 33-year-old Mattapan resident Lawrence Dotson.
A father of four who worked construction with his late father, Dotson started as a temp worker through Boston Staffing Alliance. Through the Alliance's connection with local labor unions, they arranged for him to get training for a weatherization certification, a two-week boot camp at the New England Laborers Academy in Connecticut. Dotson completed that training a few weeks ago. He expects to be working full time in several weeks.
"I went through some bad times, and they made sure to call me even when I wasn't working for them, making sure everything was fine," Dotson said. "They make sure you're prepared and really take pride in their work."
Vinny Somler met Halidy at a program helping former inmates get back into the work force.
"Unlike some agencies, the Boston Staffing Alliance accepts people with CORIs and she got me my first job since I got out of prison," says the 32-year-old Dorchester resident, who has worked a variety of temporary jobs for the agency.
"Varda's a very good person and she takes care of people who work for her," Somler adds.
One of the Alliance's clients, the American Friends Service Committee, first called when it needed cleanup for a flooded basement.
"The guys they sent us were wonderful, efficient and hard-working," says AFSC administrative assistant Phyllis Cohen Gately. "Since then we've called them a number of times, most recently to clear out space for a different use."
On the corporate side of the business, Boston Staffing Alliance has just started a partnership with Halidy's former employer Hill Holliday to do both executive searches and also find diverse candidates in openings such as account management, digital services, media and production.
"Varda is really passionate about diversity in the work force, and so are we," says Susan Gattozzi, director of recruitment and diversity at Hill Holliday, who worked directly with Halidy at the ad agency. "She always makes a personal connection with people, to the point where she's determined to find them jobs. We're excited about the Boston Staffing Alliance's mission and bringing that to our agency."
Article URL: http://www.bostonherald.com/business/general/view.bg?articleid=1291356