Category Archives:
Take Action
This page is currently under construction.  Thanks for your patience!
3-STRIKES UPDATE
On Wednesday and Thursday of this week, the Massachusetts House and Senate passed the controversial 3-Strikes Bil that has been held in committee since 2011.  While the version that passed was significantly improved due to the advocacy of many organizations, the 3-Strikes provisions are still in-tact and represent an approach that is more severe than California's failed 3-strikes law.
TELL GOVERNOR PATRICK TO VETO
A growing number of organizations are calling on Governor Patrick to VETO this regressive law.  Please call / email Governor Patrick today, Monday or Tuesday!
SCRIPT:  "I'm contacting the Governor to urge him to VETO the 3-Strikes Bill.  3-Strikes will add to our prison crisis.  We should invest in jobs, education, housing and health, not more prisons and jails."
Call Governor Patrick hotline: 617.725.4005
Email Governor Patrick:
http://www.mass.gov/governor/constituentservices/contact/
BWA is launching a new campaign to fight for access to construction jobs in our community.  To begin our campaign, we are creating a database of under- and unemployed building trades workers.  If you or someone you know is having trouble getting work in the trades, please complete our Building Trades Worker Database: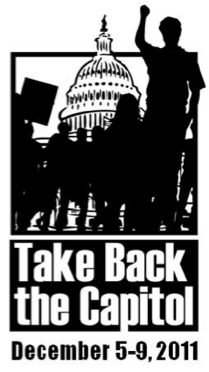 TAKE BACK THE CAPITOL: OCCUPY DC!
December 5-9th
BWA joined MassUniting to bring 250 people from Boston to DC for a week of protest!
All across the country, people have taken to the streets to demand change. From New York to LA, from Wall Street to Dewey Square, we have made our voices heard loud and clear — the 99% are here to stay. But even after thousands of marches and people willing to take arrest for the cause, our leaders aren't listening.