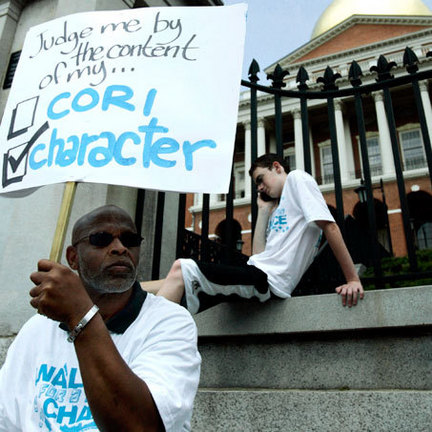 BWA's CORI Reform Committee
has worked since 2005 to end the employment barriers faced by members with a past court record (Criminal Offender Record Information aka CORI).  Over a 5 year campaign, BWA helped lead a statewide coalition to pass landmark reforms to the state's CORI system.  Massachusetts is the 2nd state in the country to ban the criminal record question from initial job applications, and we have narrowed time period that employers can ask about old convictions.  CORI reform was accomplished by many dedicated people across the state, and is a real step towards reversing the crisis of over-incarceration, policing and violence in our communities.
Learn About the CORI Campaign: view fact sheets, pictures, video about CORI laws and the campaign here.
Current Campaigns and Initiatives
CORI Ordinance Enforcement Campaign
Boston Workers Alliance is announcing a new campaign to create opportunities for job seekers with CORI. The City of Boston in partnership with community organizations passed a landmark CORI ordinance in 2005. "The Ordinance Regarding CORI" was implemented to help individuals with criminal records apply to non-sensitive positions with businesses that have contracts with the city.
The City contracts for goods and services with thousands of vendors. The City does not screen for CORI for their non-sensitive positions (children, elderly, disabled, handling large amounts of money).  These vendors are required to have similar hiring practices as the city.  While this progressive policy has been replicated as a national model, there is a lack of enforcement in Boston for the ordinance to have full impact.
Boston Workers Alliance wants to add teeth to the ordinance and develop a review process and sanctions if vendors are out of compliance.  If you or your organization wants to support us in this effort please contact Hakim Cunningham, Lead Organizer @ [email protected]
Join us to fight the good fight and help put a dent in the unemployment rate in Boston.
Related Documents:
Text of the Boston CORI Ordinance: http://nelp.3cdn.net/dc937c758c0ad0c931_fem6bxk1e.pdf
City's Fact Sheet CORI Ordinance Boston City Letter to vendors
BWA's Proposed Changes BWA CORI Ordinance Proposed Changes Memo (click to download)