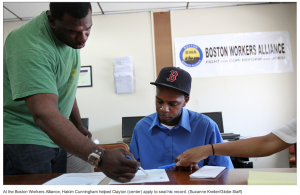 On the long road up, the past is close behind
Step off the bus and into the world of job-seekers determined to put early misdeeds behind them, the critical first step to getting right with life.
By Patricia Wen
BOSTON GLOBE
SEPTEMBER 25, 2011
Second in a series of occasional articles chronicling the people, and the world, of Bus 19.
The young man stood outside a street corner office, near a shelter for drug-addicted prostitutes, a boarded-up natural herbs store, a Bus 19 stop. He had left home early that summer morning, crossing Dorchester to pick up his 4-year-old son and take him on a 3-mile bus ride to preschool, then returned home alone to get ready for this.
He'd put on a pressed blue shirt and an oversized Red Sox cap, and before heading off, grabbed the backpack in which he'd stuffed the papers he would need.
His resume. And a copy of his criminal record.
The easy part of Clayton's journey was over. A longer road lay ahead, one he didn't know how to travel alone.
"Hey brother, how are you?'' Hakim Cunningham said, catching sight of Clayton as he came inside the office. A big man with a preacher's fervor, he'd met Clayton on a previous visit, and was delighted to see him back.
Cunningham lives for these moments - not the first time a former inmate comes through the door, but the second and third. Many never return. For men who crossed the line in their younger years, crossing back to the wage-earning world and a more settled life they now crave is far harder than they ever imagined.
The drive to turn things around can quickly fade - they have grown up expecting little from the world. And the world isn't offering much at a time when jobs are scarce even for those with college diplomas, and without rap sheets.
Clayton, however, is determined. He particularly doesn't want to fail his son. Cunningham shepherds him to his desk and talks of the task ahead: He must try to convince a judge to seal the record showing he served nearly a year for having a gun and marijuana.
"I put the docket number here?'' Clayton asked, pointing to a form.
"Yes,'' Cunningham said. "And you have to tell the judge, 'This is hampering my job search, my housing, my opportunities - I need this off my back.' ''
He made another appointment for Clayton to work on his resume and watched as the slender man zipped the forms into his backpack, slung it over his shoulder, and disappeared out the door, racing to catch his bus.
Cunningham returned to his paperwork. He wants to believe in Clayton and has hopes for him. But he knows too well the long odds.
He often prefers not to talk about that part of his life, about what he did with his own youth; he is a different man now, with a mission to help and a college degree in the works. But the old life intrudes. Not long ago, an former inmate came in for help and did a double-take. "Hey,'' the man said. "Didn't I walk the yard with you?''
. . .
The Boston Workers Alliance, where Cunningham works, takes on one of the nation's grimmest and most intractable federal government statistics - one out of every six black men has served time behind bars. If current trends hold, one out of every three black males born today will know an inmate's life.
Some 700 people come through the employment office's door each year, warily sizing up the stacks of forms, the worn office furniture, the civil rights posters on the walls, and summoning the courage to seek help erasing a stain from their life's story.
The state's criminal records law can make it very hard to move beyond the past. But when reforms to CORI, as the law is known, are debated on Beacon Hill, it can all seem abstract. To be for reform is to sound like you're siding with the bad guys.
There is nothing abstract about it here. For Cunningham and his colleagues, the question really is: How hard should it be to move past a criminal life into an honest one? Step off Bus 19, and drop in on the alliance, and you quickly get a sense of how very hard it is.
Most who come here eventually open up, talking of feeling adrift and alone and lucky to be alive - though it doesn't quite feel that way.
"Most of my friends are six feet under or in prison,'' said Quito Pagan, a 37-year-old former Roxbury drug dealer who has worked only sporadically since his days behind bars. "We were in a young man's business.''
Frank Dixon served a decade in federal prison for gun possession and other crimes committed before his mid-20s. He's now 40. He has so much free time each day that he spends hours walking city streets, scraping together cash by seeking out storefront offices that offer $5 to fill out consumer surveys.
"I try to do things to stay out of trouble,'' he said.
He usually avoids the neighborhood near Grove Hall where the alliance office is because it brings too many memories of run-ins with police. But he pushed himself to come. Lately, he has been randomly walking into warehouses, pizza joints, grocery stores, asking if they are hiring. The answer is usually no.
"Everybody's looking for work,'' he said.
There is a numbing similarity about their stories, growing up in poor, fatherless families, with opportunity distant and criminal temptations close at hand. Most don't offer excuses. Crossing the line into crime simply seemed the easiest route to what they most wanted when they were young - money and status.
"If you didn't have a nice gold chain and nice sneakers, you were nothing,'' Pagan recalled of his younger years. "How much money you have on your body - that's what counts.''
Pagan said he sold drugs to middle-class professionals, but most of his customers were poor residents of the neighborhood, including some single mothers who traded their food stamps or welfare benefits. He knew the gaunt, vacant look of a woman on drugs - he saw it in his mother growing up. He said he made up to $1,500 a week selling drugs, more than four times what he could have made at a minimum-wage, full-time job.
Many became fathers at a young age, and the notion that children come with long-term responsibilities did not occur to them. Now, after the sobering experiences of prison, they say they are trying to come to terms with that fact. They cringe at being called ex-con, high school dropout, or food stamp recipient. But being called Daddy feels good.
"Jail worked for me,'' said Clifford, a 36-year-old father of five who served time for a domestic violence case. He, like a number of men at the center, asked to be identified only by his first name for fear of dimming his employment prospects. "I didn't realize how much my kids meant to me until I didn't have them.''
In the end, Cunningham says, that's why many of them come in the door. And it's why they want jobs.
He says they tell him, "I might not be successful, but I can be a good father.''
. . .
Clayton sat at a computer in a corner of the room, typing. It was early June and his third visit with the staff of the workers alliance. He had canceled an earlier appointment, saying he had child care issues. The fact that he had called, rescheduled, and showed up had impressed the staff.
Today, he was brushing up a resume. On the screen he'd listed the handful of jobs he's held over the years - OfficeMax , DSW shoe store, food service. Under "skills'' he has listed "strong communication skills, ability to lift 50 pounds, knowledge of various computer programs.''
A young woman helping him says the resume is good but instructs him to add more detail about his duties at those jobs, more than "customer assistance'' and "sales transactions.''
Clayton quietly complies, concentrating and pecking at the keyboard.
On his mind, as always now, is his young son. He is no longer in a relationship with the boy's mother and doesn't live with her. But when she goes off to her full-time job, he rides with the boy to preschool. And he helps take care of him in other ways, now and again, when the mother asks.
He wishes he could give more.
"I want to be there 100 percent for my son,'' Clayton said.
In his mind is a job that offers at least $11 an hour, benefits, and full-time hours. Alliance staff have tried to tamp his expectations. The factory and construction jobs that once offered possibilities for people with records are long gone. Record unemployment makes matters worse.
Clayton knows this as well as anyone.
"I've been applying and applying,'' Clayton said. "I'll basically do well in the interview and then they'll say they'll just do some background checks - and then they'll never get back to me.''
Cunningham has told him there's a good chance a judge will be persuaded to remove his record from the state database. Convicted felons normally must wait 15 years before they can ask for their record to be sealed, but legal changes that take effect next year have shrunk the waiting period to a decade.
But Clayton has a special situation: His conviction was overturned on appeal; his record is otherwise clean.
That gives Clayton hope, and over the course of the next weeks, he had come back to the office six times, fleshing out the resume and writing cover letters for jobs across the city - at warehouses, retail stores, shipping companies. By mid-June, he had sent out about a dozen.
. . .
There are days when Cunningham wishes he had a different job.
He can't get away from the constant reminders of the prison jumpsuit and chow hall. He can't escape the continual commentary in the office about how tough it is for former inmates to get hired - and the quiet recognition that he might be out of work if he didn't have that one rare job that counts prison time as an asset.
"What happened, honestly?'' Cunningham, 35, shouts into the phone one summer morning in the office.
A teenager from the neighborhood was on the line, asking for yet another chance to come in and perform community service at the office. The teenager had been given that sentence by a judge in lieu of detention at a juvenile facility, and Cunningham agreed to sponsor the youth and let him wipe tables, clean windows, and sort papers. But the teen came once, then failed to show up, neglecting to make even a phone call to explain why.
"You burned your bridge with me when you had so little community service to do - and you didn't show up!'' Cunningham said. "You have to think of yourself. It doesn't work for me to help you and then you bail on me.''
Cunningham abruptly hung up, and dropped his face into his cupped hands.
"There are days I don't want to come here,'' he said later. "This work is draining.''
His childhood was relatively comfortable compared to his neighbors in Dorchester's Codman Square. Cunningham was smart and intellectually curious and recalls suffering in his early years from "boredom - inner-city boredom.''
He described his mother, who worked full time as an office worker and owned her own home, as someone who did her best to provide for her four children.
"We were never poor,'' said Cunningham. "There doesn't have to be something wrong in a family for an individual to go astray.''
One of his first crimes as a teenager was stealing a car. He said he wanted "the life'' back then, the ability to have plenty of cash to attract pretty girls and buy expensive things. He fathered a child. In his early 20s, he sold drugs. Then, in 2000, he was caught and arrested. After being released on bail and given a court date, he bolted.
He was on the run for more than two years, living off relatives and friends around the country, Cunningham recalled. Then one day while with friends just north of Boston, police stopped a car, in which he was a passenger, for speeding, and noticed there was a warrant out for his arrest. When asked about it, Cunningham just nodded - they had him.
Prison was, strangely, almost a relief. Though initially he found it "very scary,'' he realized as the months passed that he'd been freed of destructive distractions.
"When I was locked up, there was time and me,'' he said. "I could push the intellectual side of me.''
He read voraciously - books about African history, Islam, and just about anything else he could get his hands on. He came to have passionate beliefs about how public schools fail today's urban youth, particularly black males. He also learned practical skills, taking Microsoft classes on how to make spreadsheets and PowerPoint presentations.
In November 2005, a few months before his release, he heard about Judith Roderick, a nonprofit agency case worker who had been helping some former inmates adjust to life on the outside.
"I would like to be proactive and help create change in my community,'' Cunningham wrote her. "I have a lot of different skills that I can offer - a sense of aggressiveness and focused determination. With your help and guidance, I know that I can make a positive transition back into the community.''
After his release, Cunningham began attending regular community meetings at the Dudley Square public library, where city leaders discussed ways to improve job prospects for the poor. The meetings led to the formation of the Boston Workers Alliance, led by a recent Harvard graduate committed to community service, Aaron Tanaka. With some $300,000 of foundation money Tanaka helped raise, the alliance opened in winter 2009, devoted to providing direct services to the poor and to political activism.
By then, Cunningham was struggling to find his path. He'd been fired from his first job in housekeeping at a Boston hotel after his employer's computer search revealed, weeks into the job, that he had a criminal record. Later, he landed a truck sales position in which he was earning about $45,000 a year in commissions. The money was good, but he ended his day "feeling empty.'' When Tanaka offered him a job, Cunningham grabbed it - despite an $8,000 a year pay cut.
Tanaka, who is Japanese-American, deliberately assigned Cunningham to the front desk, knowing he would have a more instant rapport with clients. And he does, even when he's not wearing one of his favorite T-shirts, which reads: "Danger: Educated Black Man Armed with Knowledge.''
Cunningham said prison life gave him the passion to help young black men become money-earning fathers in the home. He said the drug trade is full of young, ambitious men who are in it because they see it as the only way to earn good money - and as an alternative, even if not respectable, to the dole.
"People hustle out of a natural sense of survival,'' said Cunningham. "Some people don't want to be government dependent; it has a crippling effect on your psyche.''
When he helps a former prisoner legally seal a criminal record, Cunningham said he feels he's "taken off some of the oppressive weight that goes with living in America and living in the inner city.''
"I've lightened the load just a little bit,'' he said. "But they still have to sell themselves to employers.''
. . .
On a late July afternoon, Cunningham joined some friends at the Puerto Rican Festival in Franklin Park. It was a good day. He had learned that he had received an "A'' in his philosophy class at UMass Boston. He is working hard on his relationship with his teenage daughter. He still finds deep meaning in his job, though lately yearns for work unrelated to prison life. He often thinks to himself that it would be nice to move on.
Then, amid the live music, carnival rides, and sea of people at the festival, there was Clayton.
Cunningham had been thinking about him. He knew how hard Clayton had worked, and to make his case to the court. That effort had been rewarded, at last, when Clayton got his record sealed by a Roxbury judge.
"Hey what are you up to, Clay?'' Cunningham shouted as they passed each other.
Clayton told him he had an offer to work at Logan Airport. A customer service position.It was temporary work, but it was what he wanted. A start.
http://articles.boston.com/2011-09-25/news/30201587_1_clayton-cunningham-works-bus?fb_ref=art&fb_source=profile_oneline