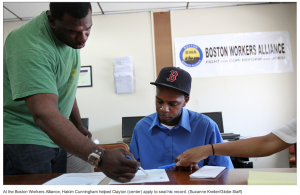 On the long road up, the past is close behind
Step off the bus and into the world of job-seekers determined to put early misdeeds behind them, the critical first step to getting right with life.
By Patricia Wen
BOSTON GLOBE
SEPTEMBER 25, 2011
Second in a series of occasional articles chronicling the people, and the world, of Bus 19.
The young man stood outside a street corner office, near a shelter for drug-addicted prostitutes, a boarded-up natural herbs store, a Bus 19 stop. He had left home early that summer morning, crossing Dorchester to pick up his 4-year-old son and take him on a 3-mile bus ride to preschool, then returned home alone to get ready for this.
He'd put on a pressed blue shirt and an oversized Red Sox cap, and before heading off, grabbed the backpack in which he'd stuffed the papers he would need.
His resume. And a copy of his criminal record.
The easy part of Clayton's journey was over. A longer road lay ahead, one he didn't know how to travel alone.