Friday, November 9, 2012
6:00pm until 10:00pm (program starts at 7pm)
SEIU 1199 Event Hall, 150 Mt. Vernon St., Dorchester MA 02125
BWA is pleased to announce our 2012 Celebration and Fundraiser
Details and purchase tickets online: www.tinyurl.com/bwa-event
Facebook Invite: www.facebook.com/events/278360262275312/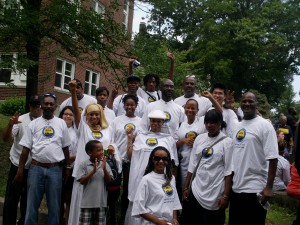 Come celebrate the courageous members, staff, board and allies of the Boston Workers Alliance who give their time and energy to fight for good jobs, a fair criminal justice system, and a green and healthy future for our communities. This event will recognize outgoing executive director for his 7.5 years of service and welcome new leadership to our community.
*BWA Celebration Flyer 11-9-12 (download here)*
The evening will include:
- Heavy hors d'oeuvres from a local caterer
- Awards and recognitions of our leaders and allies
- Live music, dj, dancing
- Silent auction, raffle, door prizes
- Community building, networking and celebration!
Suggested donation is $25. No / low income is $15.
Organizational Partners are encouraged to Sponsor our event with an Advertisement and purchase discounted group tickets: www.tinyurl.com/BWA-event-sponsor
Please join us!
BWA Accomplishments
2005 - Founded by Chuck Turner's D7 Roundtable
2005 - Helped Pass City of Boston CORI Ordinance
2006 - Trained 1st Class of CORI Advocates
2008 - Helped Pass Green Jobs Act for Green Jobs Training
2008 - Started Large Scale Voter Engagement Drive
2009 - Opened Worker Center Office in Grove Hall
2009 - Started Roxbury Green Power Cooperative
2009 - Started Community Garden Project
2010 - Helped Pass Historic Statewide CORI Reforms
2010 - Opened Boston Staffing Alliance, temp agency
2011 - Helped Win Funding for Home Weatherization Jobs & Services in Boston
2011 - Helped Lead 3,000+ in Downtown March for Economic Justice
2012 - Helped 300+ People Seal CORIs Under New Law
2012 - Helped Launch New Coalition for Fair Construction Jobs