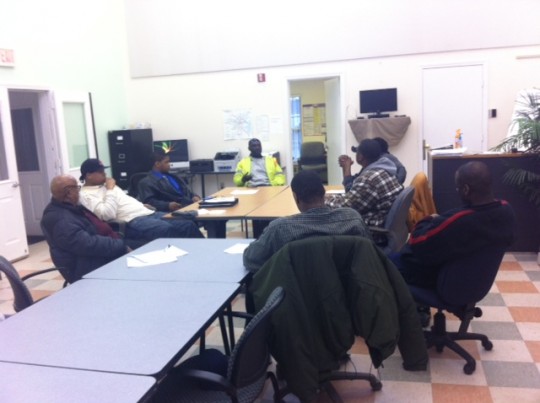 Speakers and Coordinators
Tracy Parks
Chuck Turner
Hakim Cunningham
Cherise Franklin
Kenneth Gerald
Dexter Muhammad
Today was a great day in labor and community organizing history, 13 men sat around a table at 140 Winthrop St. Roxbury, MA at the Macomber Learning Center and discussed how to get younger African - American men and women into the skilled trades unions. They took it a step further and posed the question, "Why can't we work in our own city with billions of dollars of construction breaking ground all over Boston?" The young men were joined by older and experienced journeymen from the Laborers, Tapers, Electricians and Bricklayers Unions who made the younger guys aware that there is politics that goes with the trades.
The Second Chance Program is strategizing to start small with 3 local family homes and scale up to commercial building renovations across the city. The energy surrounding the table stemmed from the common goal of finding ways to teach and train ourselves. Former City Councilor Chuck Turner said, "Our ability to win or lose is all in our minds. We have the determination and will to achieve and leave a legacy for the next generation; then our jobs are not fought for in vain." The Second Chance Program is looking to have local contractors who are licensed and Masters in their trade to come out and teach the youth the skills they have acquired over the years.
David Johnson a Master Sheet Metal Worker of Barnette Plumbing & Heating said he is willing to bring all of his talent to the table, to help the plight and causes of young black men and women who want to do what's right to provide for their family's. The meeting was scheduled for 1 hour but it went well over an 1 hour and a half once the blood and creativity around the table started to bubble and rise to the top of the dialogue. Stay tune for the next Second Chance Program Construction meeting it looks like we are just getting started.
Program Coordinator
Hakim Cunningham